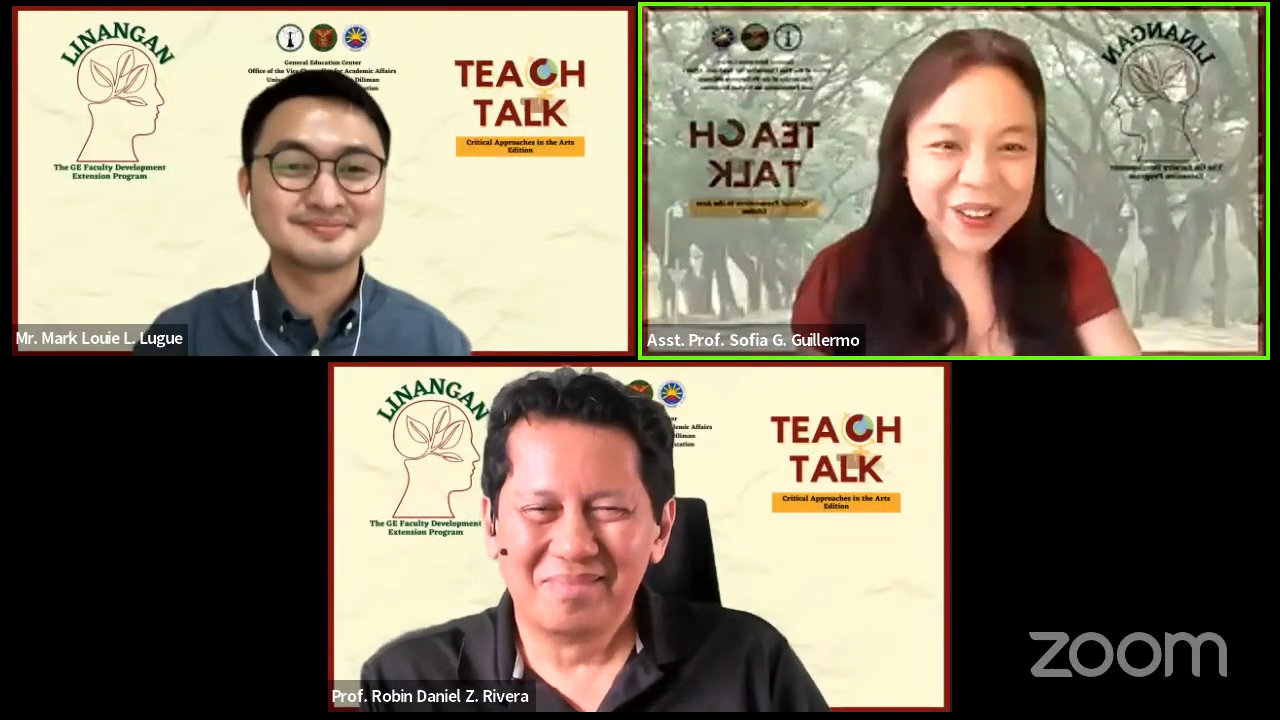 Art doesn't exist in a vacuum — social, political and even historical influences affect how art is experienced and practiced. This is one of the main points reiterated in the fourth LINANGAN webinar, Teach Talk: Critical Approaches in the Arts Edition. Consisting of professors from UP Diliman's Department of Art Studies, the webinar delved into critical approaches of teaching the arts — a topic at the heart of the liberal education thrust of UP's General Education program.
One of UP GE program's goals is to mold students into creative and critical thinkers. This goal fits into the general objective of ARTS 1, the GE course taught by the two eminent speakers of the webinar. For Professor Robin Daniel Rivera, ARTS 1 should be taught in a "glocal" perspective — that is, combining global perspective in the arts with local, Filipino lens. He urged participants to be more wary and critical of popular culture — being knowledgeable and insightful of the trends that their students take part in.
Giving context is also a defining characteristic of Asst. Prof. Sofia Guillermo's discussion of ARTS 1. For her, the course is more than an arts appreciation. True enough, she reiterated that point throughout her discussion. After all, art is not just confined to grand paintings and works, but can also be seen and applied in everyday life. ARTS 1 as a course should not just be a discussion on the technical aspects of art, but also on how it is informed by the human condition. For instance,  how art can be political, and change people and society. A quote attributed to Alice Guillermo sums up this point: "art is a signifying practice grounded in society and history". "Always historicize", Asst. Prof. Guillermo advised the participants, reminding them that art is always influenced by many factors.
Furthermore, the practice of art is not just confined to paintings and sculptures — it encompasses other forms of creative expression as well. This point was also one of the salient points affirmed by both speakers during the open forum moderated by Mr. Mark Louie Lugue. Asst. Prof. Guillermo points out that the art teacher's role is to deepen their student's appreciation of art. Likewise, Prof. Rivera affirmed that even non-art practitioners can teach ARTS 1, though some background in the arts is a must.
The fourth LINANGAN webinar under the Teach Talk series capped off last December 13 with around 1,000 participants from different higher education institutions nationwide. The series of webinars serve to fulfill UP's mandate of giving public support, expertise, and research to SUCs/ LUCs/ private/ special/ other HEIs by training faculty on how to teach general education courses. Two main takeaways surfaced at the end of the webinar: one, to always give context to what is being taught; and two, to always impart critical thinking to their students. This way, they can realize art's potential to change the people, the society, and the world.
LINANGAN webinars will resume on 18 February 2022 with the topic, "Teach Talk: Ethics Edition". Participants may register for this webinar along with others in advance on GEC's LINANGAN web page.