Dr. Nancy A. Kimuell-Gabriel
May 2020 – Present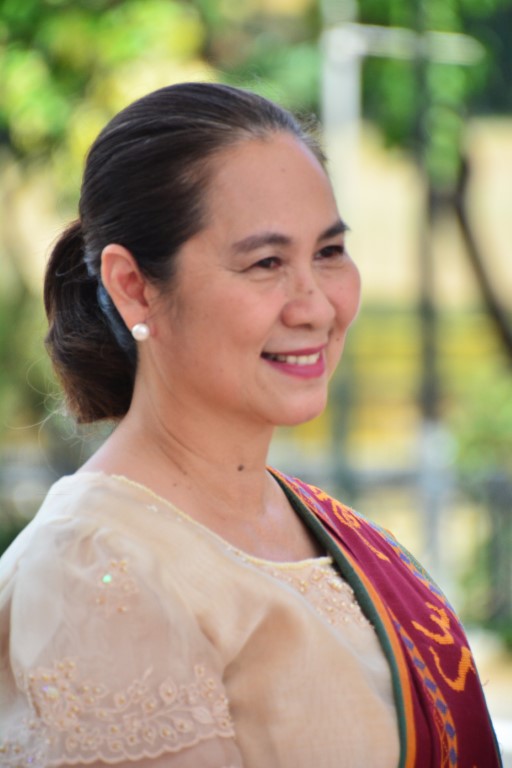 Dr. Nancy A. Kimuell-Gabriel is an Associate Professor at the Departamento ng Filipino at Panitikan ng Pilipinas, College of Arts and Letters of UP Diliman and an affiliate faculty at the UP Tri-College Ph.D. Philippine Studies Program. She obtained her undergraduate and master's degree in History and a doctoral degree in Philippine Studies from UP. Her masteral thesis "Timawa: Kahulugan, Kasaysayan at Kabuluhan sa Lipunang Pilipino," won the De La Salle University's Gawad Lasallian as "Pinakamahusay na Tesis-Masteral sa Filipino." In the Lourdes Lontok-Cruz Awards given by the University of the Philippines Center for Women's and Gender Studies in 2015, her doctoral dissertation was chosen as one of the four Best Dissertations on Women and Gender Studies encompassing the period 2000-2015.
Ma'am Nak, as she is fondly called, is a champion of gender and development in and outside of the university. She was the Coordinator for Gender Matters or the Head of the UP Diliman Gender Office from 2015-2019. She was the adviser of GABRIELA Youth UP Diliman in 2016-2017 and 2018-2019. She has also been invited as a trainer and resource person for several gender sensitivity trainings. She has published several refereed journal and book articles on history, women and gender, and is currently the editor of the Diliman Gender Review.  She is a member of the Asian Association of Women's Studies and the Women's and Gender Studies Association of the Philippines.
Staying true to her first love, history, Ma'am Nak fuses history and gender in some of her publications and editorial work. She has mentored PhD and MA candidates in both fields. Her passion in history and gender studies has been recognized in the University with three UP Diliman Centennial Faculty Grants, and a UP Diliman Centennial Professorial Chair. She is also a twice recipient of The One-UP Faculty Grant Awards covering the period 2016-2018 and 2019-2021. In 2011, she won a Gawad Palanca in the prestigious Don Carlos Palanca Awards for her essay, "Kubeta."
Her involvement in general education started way before she became the GEC Director. She was one of the authors of Philippine Studies 21: Wika, Panitikan, at Kultura sa Ilalim ng Batas Militar sa Pilipinas. She was also the RGEP Coordinator for DFPP from 2015 to 2016. Alongside her appointment as the GEC Director, she is also the coordinator for the College of Arts and Letters in the UP Diliman Tri-College PhD Philippine Studies Program since April 2018, and a member of the UP Diliman Grievance Committee.