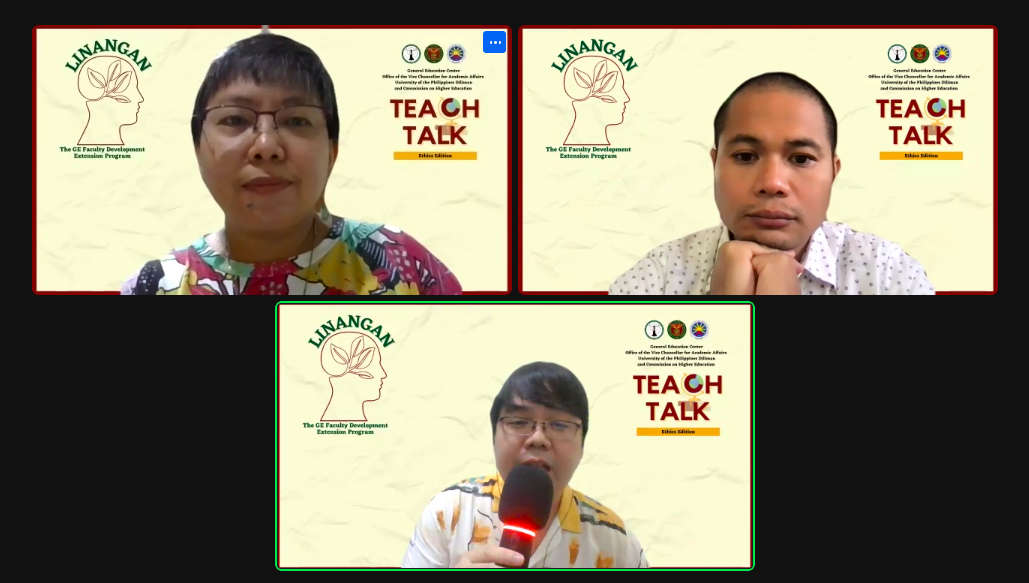 How do Gen Z students perceive and understand ethics and morality? Is ethics even relevant to them? How can teachers inculcate ethical theories and frameworks into the life of their students?
These are some pressing questions that teachers ask when teaching ethics to Gen Z students. As one of the eight General Education courses under CHED's GE curriculum, teachers need continuous discourse to gain critical insights and knowledge into why and how ethics should be taught to students.
Teach Talk (Ethics Edition) provided an avenue to continue such discourse. In this webinar, UPD professors from the Department of Philosophy, CSSP tackled the importance of ethics, its relevance, and how it can be taught so that Gen Z students can gain a deeper understanding of the subject.
For her opening remarks, Vice Chancellor Ma. Theresa Payongayong described the importance of ethics to the next generation of learners. Ethics inculcates soft skills such as critical thinking and analysis, as well as complex problem-solving that are crucial for students as they face various problems in the society.
This point has been affirmed by the first speaker of the webinar, Assoc. Prof. Lumberto Mendoza, Ph.D. In his discussion, he stated that ethics helps students arrive at a judgment based on sound reasoning, allowing them to become responsible citizens with capability for critical thinking and dissent. He also clarified that ethics is different from morality with the help of a brief video which he also uses for his class. Finally, he shared how his students were able to internalize the importance of ethics, going so far as to relating them with their hobbies.
Instructor Alexander Atrio Lopez, the second speaker of the webinar, also shared how he taught ethics to his students. For him, ethics carries practical and important implications in the society, even if some questions in ethics verge on the theoretical today. Ethics — and philosophy in general — should be about challenging boxes and limitations, and shattering them to advance the discourses on society's issues today. As such, his assessment tools and exercises after discussion of various ethical theories were modeled on practical examples. He also reminded teachers that Gen Z students don't want to be treated like they know nothing, and implored them to connect their discussion to a more personal or social level.
These discussions were followed by an open forum moderated by Prof. Ma. Liza Ruth Ocampo. In true philosophical fashion, the open forum utilized the Socratic method to discuss the questions and ponder the answers. Among the questions that surfaced were related to the application of ethics on practical and social issues, such as teaching ethics in a time when fake news and disinformation abound. On this issue, both speakers agreed to respecting one's viewpoint and arguing in a civil manner. Both speakers also reminded teachers of disclosing their personal bias, so their students can be mindful of where the teacher is coming from when teaching certain theories and frameworks. The teachers must always be sensitive to their students' needs and relate to their students' context. Before the open forum wrapped up, the question of teaching ethics in the time of elections was brought up. The speakers and moderator agreed that students can be given guidelines to discern and rationalize their choices.
With the webinar on ethics concluded, the LINANGAN: GE Faculty Development Program will now delve into the topic of Purposive Communication on March 21, 2022. As always, interested participants may check the LINANGAN web page or GEC's Facebook page for updates on the next webinar.